Your Friendly, Caring Webmaster's Page
And for the arty among you DFAS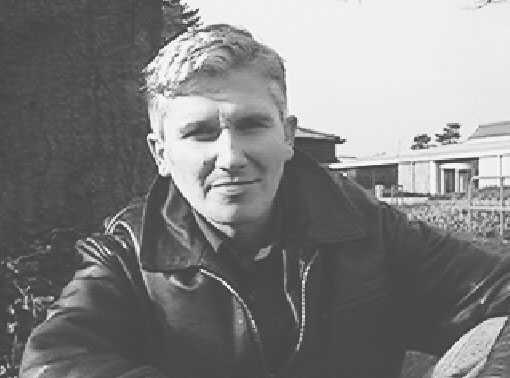 You are listening to the theme from Marine Boy
This is me as cute baby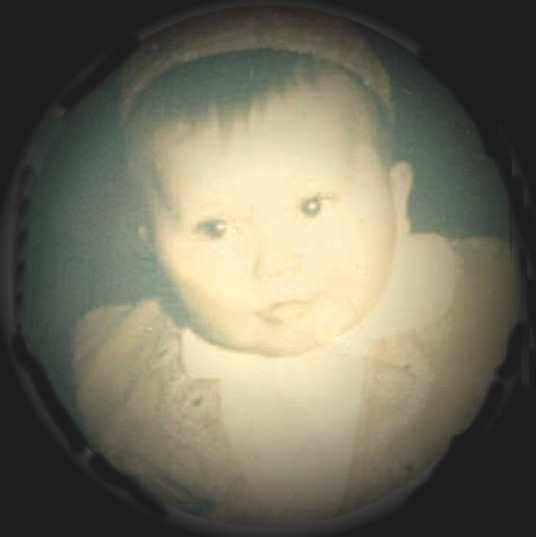 (This is the only picture I have of me with something approximating a smile.
If you look at my gob closely, you can tell it is me.
Though I have never retained cuteness. The flash gear is Semitic and from Israel. Mazel Tov!)
Hi, I'm Stu Ross and I hail from Townhead in Glasgow. I attended Allan Glen's School (as did the Lord Todd of Trumpington and Dirk Bogarde the actor) and also Peterhead Academy (some thought it should have been the high security prison there). One of my remarkable physical traits (if I have any at all) is having been born with certain attributes of a fish (no not what you think - I had a hole in my neck at birth, said to be a rather unusual evolutionary quirk that was the remnants of a gill!). Thus my early aspirations to chew Oxygum like my hero Marine Boy. Indeed, having survived that and my aspirations to be a paleontologist, I thought about marine biology as a "career". If only I had listened to my heart. I'm now a psychologist of sorts and have a special interest in the cognitive development of young children and specifically the theoretical work of Gerald Edelman. The doctorate was for research into children's understanding of the Newtonian mechanics and psychophysics involved with estimating the duration of an event.
A recent snap of me ... pretending to be Jason King or is it Fu Manchu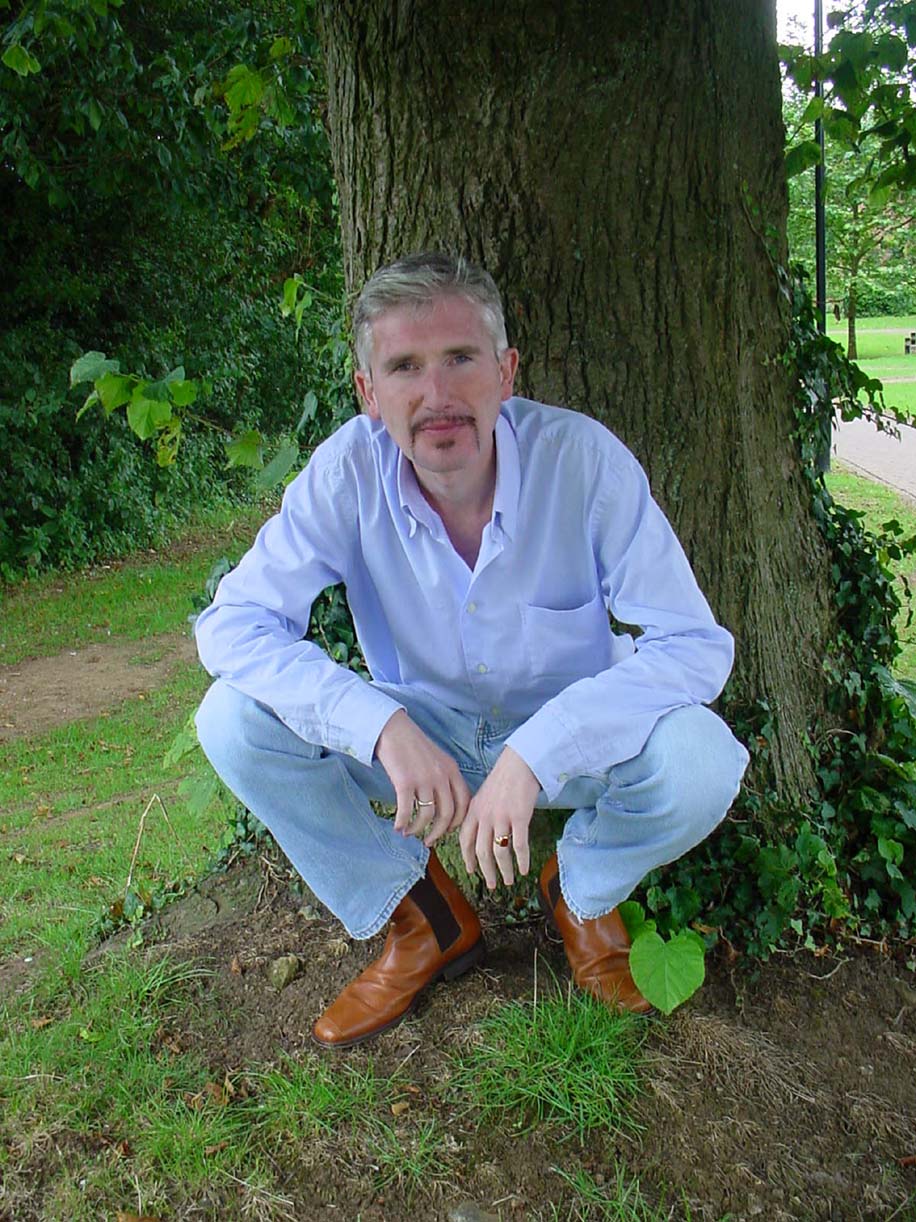 Snaps of my "pets"
This is tattoo one and it is slightly lighter, more blue and the flames and tail are much more electric than is suggested by this snap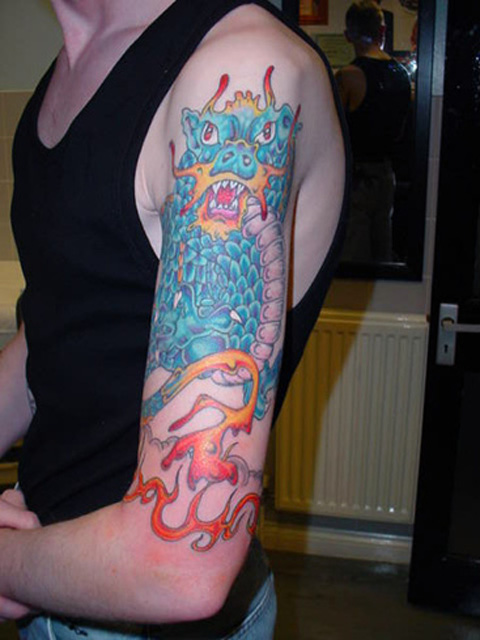 "Hong Lung" ... Sweet "Fragrant" Dragon
This BIG tattoo (16 inches long) is by my late friend Ian Hockaday of the Blue Rose Tattoo Studio and completed by the Mad Orkadian, Jim Freeman - working out of The Tattoo Club of Northampton
I guess us Scandinavian descended Scots stick together
This is Ian and Joan a few years back ... the artist and his Scottish "beloved"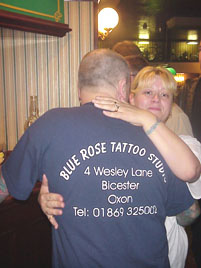 Tattoo Two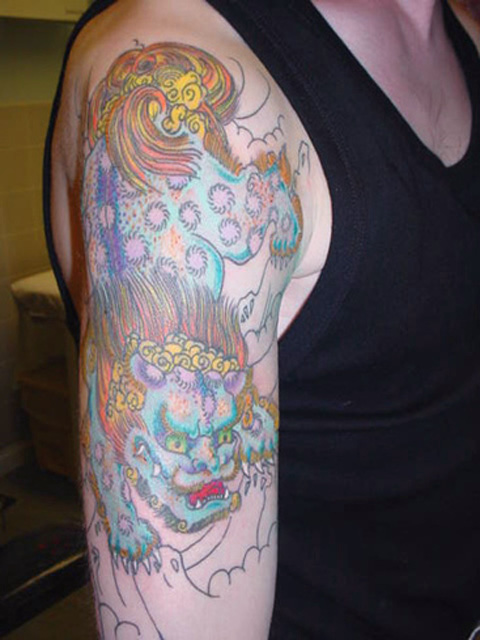 This Temple Lion does not have a name. However he is part of a set and his "friend" is the
"Prosperity Snake" ...
The set is more than 19 inches long and ends with my seahorse called Lichfield
All colouring and tattoos except for the outline of Hong Lung is the work of Jim Freeman
| | |
| --- | --- |
| Jim "Serious Artiste" | Jim |
| | |
More Tattoos
My Chest Panda
This superb creation is again by Jim and he likes it so much he getting a photo to give to his grand mother -
Tattoosists are human too!!!!!!!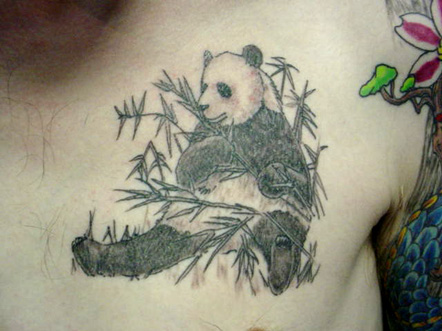 But here is my bird ... He is just so damned handsome ...
This photo is darker than in reality and his tail is colourful. A unique design by Jim Freeman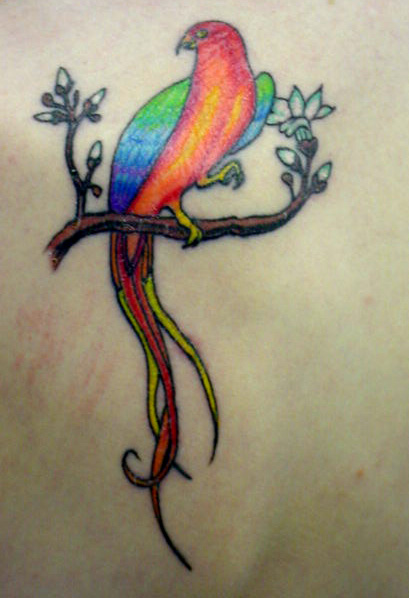 The above is now part of a two foot long tree that covers the left side of my back. The main piece is a Pere David Deer ... Oriental but the biggest collection of them in the world is on the border of Northamptonshire. The background, which is ongoing, is thanks to Harry from Jim Freeman's favourite Chinese Restaurant. The food is as good as the decor!
Well this is it. Taken in San Francisco at a party ... It has a large footnote in logograms underneath it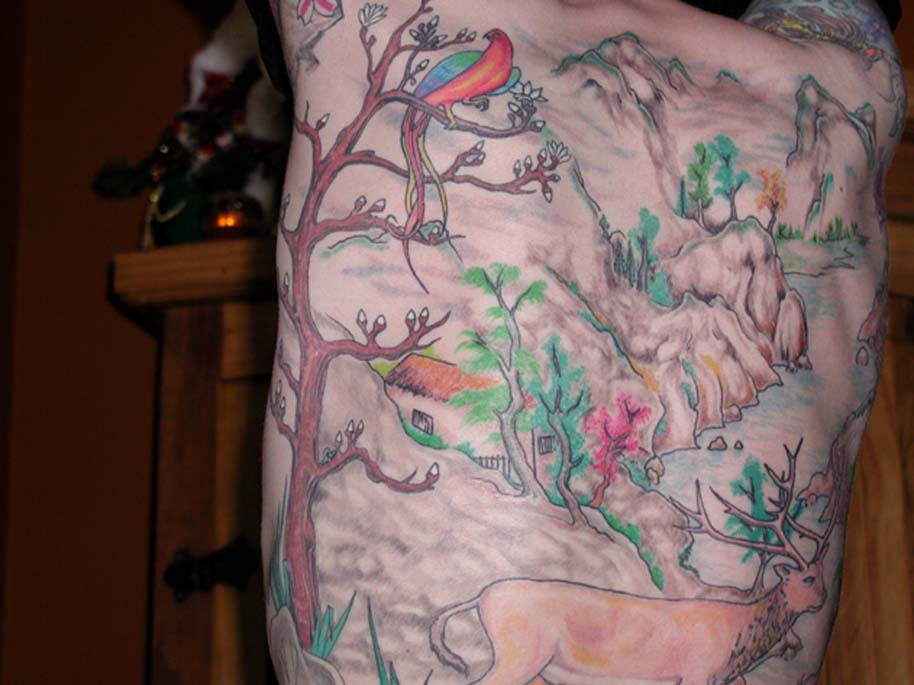 SOME OF MY FRIENDS
This is my guru
Robert Turpie McLaren, M.A.
05.07.08-28.08.01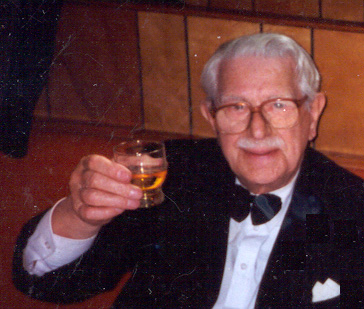 Bob, it's hard to find a few pithy words to write about how much you meant to me as a friend and mentor. I will miss our "imbibing of the truth" over a wee ball of whisky and even the sad times when both of us reflected upon the mistakes we had made in our lives. Lord, even cutting your hair in my part time role as barber was always fun. My loss is great but I am bolstered a little by Jean and you being united after but a short spell apart. Stu
Alex - Wee Gentleman
My snap of Alex is being updated
Alex is quaint, old-fashioned and a very dear friend
Boab - ... Double Smirnoff & Holy Water
This snap of the friendliest walrus was taken in Donaghadee.
Hannah, his wife, was with us too but she could not fit into the same snap as the big fella
Trevor ... English Gentleman
| | |
| --- | --- |
| "Sophisticat" | "On Holiday" |
| | |
Trevor is a wee star, with a big heart and a great personality
You can tell that, in spite of me looking like something the cat dragged in, some of my friends are coutured, urbane and refined!
Well some are .....
Bill - Guru From Afar
This snap of the sparkly-eyed Mr Soronen was taken at Baggage Reclaim in Las Vegas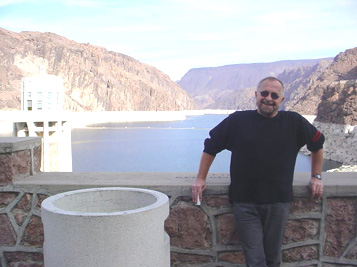 This was taken at the Hoover/Boulder Damn on the border of Nevada and Arizona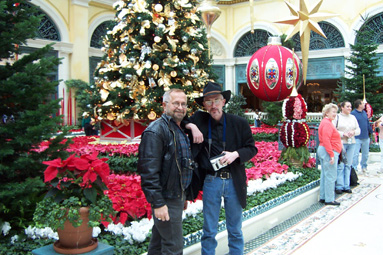 Bill and Me (Lee Van Cleef) in the Bellagio Hotel - taken by Vic Chrostowski from San Jose
My oldest brother Andy thinks I look like this guy ...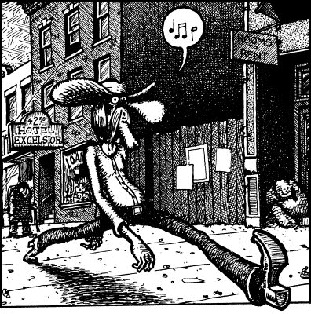 Freewheelin' Franklin from the Fubulous Furry Freak Brothers! I guess i did ...
Me in San Francisco 3 January at 8.00am. Photo by Bill Soronen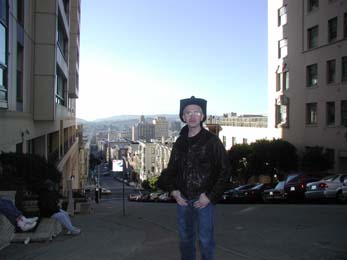 This was taken on California waiting for a tram
Bill is another star and is as bright as a new button
It might appear that I only have a few mates and two of them are no longer with us (they still are in many ways and one of them obviously in "Hong Lung"). This could not be further from the truth. We are a gregarious bunch and we share many of the same interests and tastes in terms of politics, religion, culture, etc. Some of the MYD dudes are very close now too but don't do much supping of "the truth"though sum lap from the waters of Divine knowledge!
RELATIVELY SPEAKING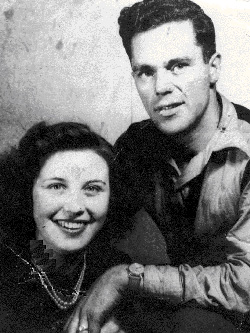 This is my Ma & Pa, Bobbie & Andy
(how come the the offspring are so damned ugly? I have pondered that many times too!)
My father too was a bit of a marine boy
The other progeny of Andy and Bobbie ... they are all much older than me!
| | | | |
| --- | --- | --- | --- |
| Linda - Oldest | Andrea - Next | Andy - Next | Robin - Etc. |
Andy will shoot me for this awful photo. It belongs to Andrea who is now in Australia
More about MYD and me ...
One of my many extracurricular activities goes back to my boyhood passion for the sea ... Shandwick ("Sandvig" is the Norwegian Viking name for "gently sloping beach" and it is a beautiful place and luckily is also the family seat! My surname "Ross" and also "Vass", the other indigenous name from the three connected hamlets of Shandwick, Balintore and Hilton are old Viking monikers that are now virtually never found as proper nouns in modern Scandinavia), then Peterhead and now Kilkeel, and the Marine Boys and Girls of the Mourne Young Defenders. I first saw the band in Belfast about 10 years ago, when they were almost certainly the best marching band in Northern Ireland and were doing indoor sets as well as their outdoor parades. The band has changed since then but there has always been something a bit special about it. It is not just a very good Melody Flute band, the band has a unique quality that no other band I have seen playing has in such abundance ... a joie de vivre that is infectious. The only other band I know who will play all day and night and still be fresh and enthusiastic is a wee melody band also from County Down, The Newtonards Melody Flute Band.
So now you know how I got to be here. The band members are a great bunch and that makes supporting them all the more easy. From the oldies in the band John, George, the two Willie Johns, David, Greasey, Marcus, Derek, Scotty, etc. through to the very young Defenders (for example see Adam in the Gallery) and the wild bunch in between (no names here - you know who you are! Joel I have heard you drive like a devil possessed. Oops I've just mentioned one of them.) and the ever loyal wives, girlfriends and the many other allies of the band I have made some good friends. What a long sentence. All I really wanted to say was ...
God Bless the Mourne Young Defenders!