Cloughfern Young Conquerors
Battle Of The Bands 2005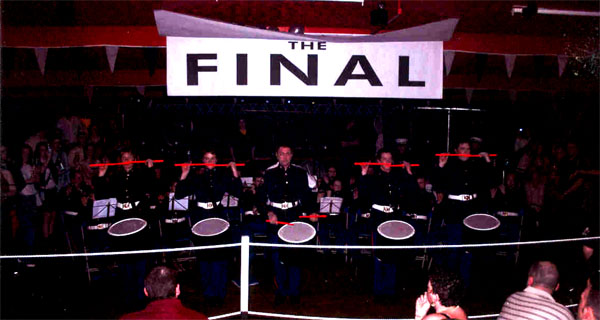 One of the newest and biggest indoor competition for Loyalist Flute Bands was held in the Eastway Social Club Rathcoole, organised by Cloughfern Young Conquerors.
The contest was held over six weeks, beginning with the first heat on the 6th February to the last heat on the 12th March, with the Grand Final on the 19th March. The winners from each of the five heats won a deserved place in the Grand Final.
The Mourne Young Defenders heat took place on the 12th February, kicking off at 8:30pm. With each band being allocated only twenty minutes of playing time it was going to be tough for each band to pick their finest and most entertaining pieces. Heat 2 consisted of UVF Regimental Band, South East Antrim Defenders, Pride of the Shore and the Mourne Young Defenders.
With all four bands playing exceptionally well, a tough job for the judges took place to pick an overall heat winner, and a nervous wait for the members of the participating bands was in store for the results. Best Fluting Band went to UVF Regimental Band, with the Mourne Young Defenders winning Best Bass Drummer, Best Drum Corps, Best Entertaining Band and Overall Heat 2 Winners!!
On the night of the Grand Final, the venue was sold out. A big test was in store for the band with the majority of it containing Flautists and Drummers under the age of 21. Adding to this pressure the conductor changed the programme from the previous heat.
The final consisted of Kilcluney Volunteers, Mourne Young Defenders, Gertrude Star, Ballymaconlley Sons Of Conquerors and Pride Of The Bann. Again each band was allocated only twenty minutes, with all five bands putting a lot of effort in and playing exceptionally well.
The hard work put in by each member of the band paid off as the Mourne Young Defenders came away with two trophies and £1000 cash prize money for being overall winners.
The band would like to thank all their supporters who traveled both nights and to each competing band who made it a great competition and finally thanks and congratulations to Cloughfern Young Conquerors for the way the competition was organised. Well done!!!
Cutter (a.k.a. Old Man, Gardener, No Reservation Required...)

Never mind the glory just give us the cash ...

The Winners