Craig's Craic
This page presents the day to day activities of MYD through the eyes of their piccolo player, Craig.
The table below contains links to events and Craig's take on them .... Read'em and weep!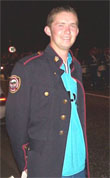 NOTA BENE: The MYD Parade in 2005 is 5th August ... Be there or be square .....
Home Welcome History Galleries Craig's Craic Kilkeel Links Acknowledgements Alan Johnston