GALLERIES
THE KILKEEL OLD BOYS F.B. .. PREHISTORY
IT'S A GOOD JOB WILLY JOHN HAS RETIRED AS DM!
MIDDLESEX COUNTY VOLUNTEERS 2001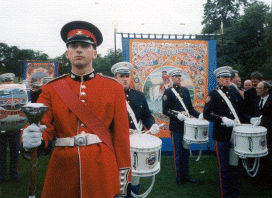 1998, Glasgow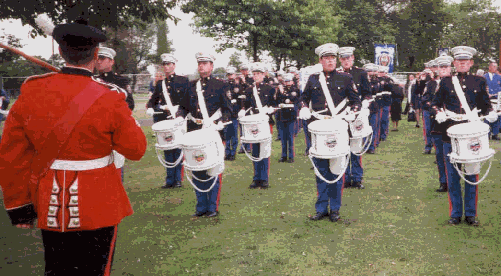 2000, Glasgow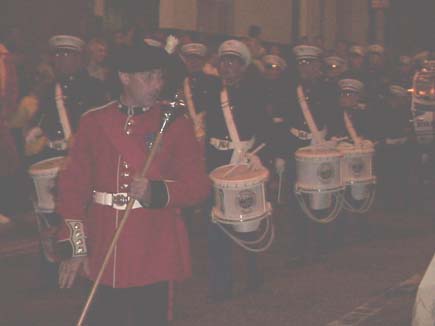 11.00pm in Kilkeel, 12 July, 2001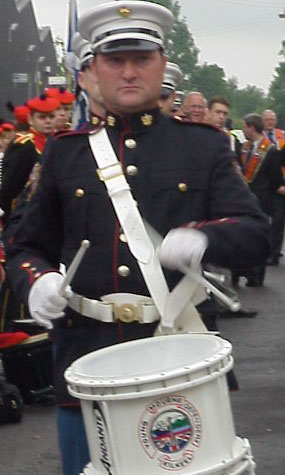 "Greasey" (don't ask ...) the drummers' tip does some back sticking!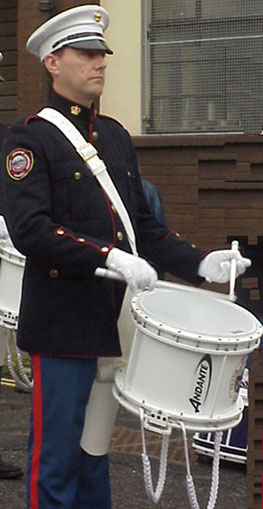 It's that fella from Carryduff - MYD Drum Instructor, David Montgomery
ADVERT
Grade One to B & T drums tuned by well travelled drum instructor
David maintains the drums for several top bands including one of the most respected B & T bands,
The East Belfast Protestant Boys
The Mourne Young Defenders play Andante drums
To be balanced, as a good drummer should always be, here is a link to Premier Percussion
Oh! did I say? MYD play Miller Wickes flutes!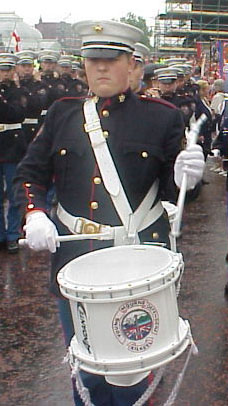 And here's one drum that D.M. tuned and a drummer he instructed!
Backsticking at its SMOOTHEST (I got told to say that by Stephen's dad!)
Where is Marcus?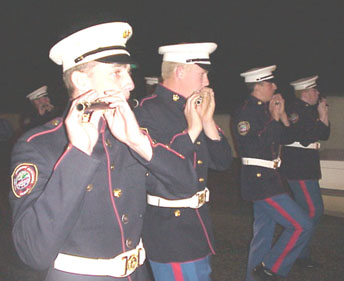 Fluting at night! (under a lamp)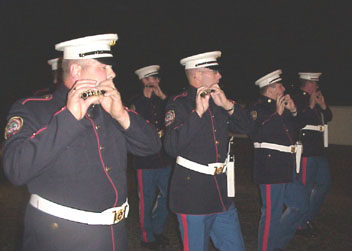 Fluting at night too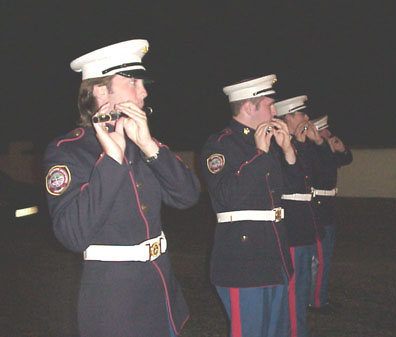 Wayne & the Big Fellas in the End Row
(Alternate title - Fluting at night 3)
Kilkeel's Arch
The Cenotaph in Kilkeel
(The following snaps of the band are opposite this fine and fitting monument to the Fallen)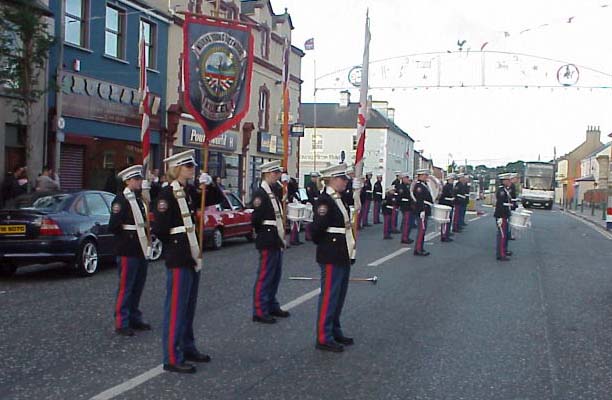 The Colour Party & MYD Boys at Kilkeel's Cenotaph 05.30, July 12, 2001
(The Kilmorey Arms Hotel is the light blue building on the left)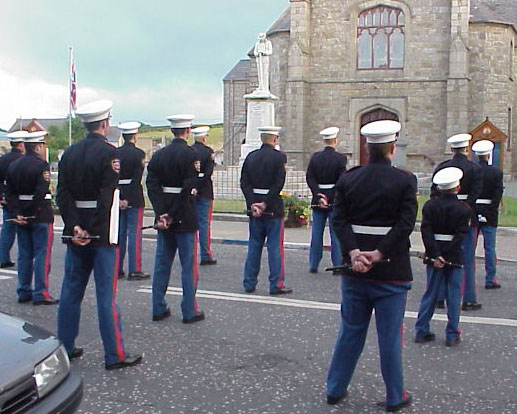 05.30 Morning of 12 July at Kilkeel Presbyterian Church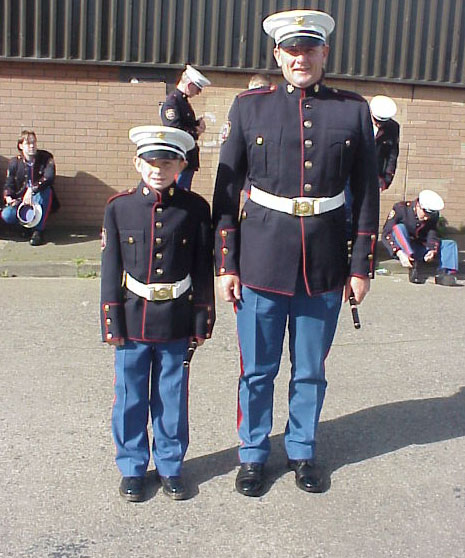 Adam & Willie John MacConnell (son & his very proud dad!)
(This picture was included in Mourne Observer, August 1, 2001)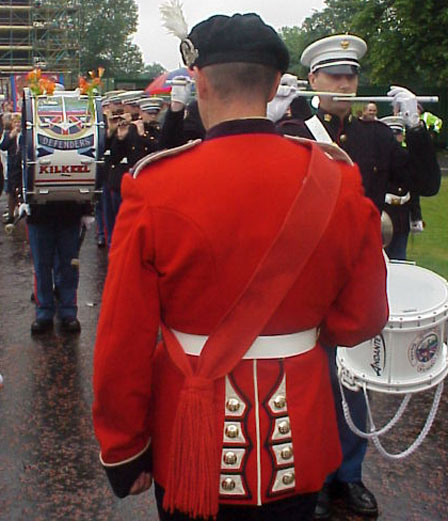 Drum Major Willie John Heaney and David Montgomery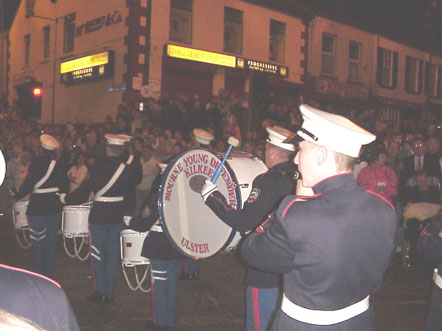 Kilkeel at Night (...and what a night!)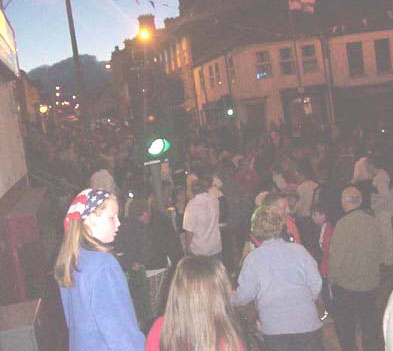 The welcome back! Crowded, happy streets in Kilkeel at 10.55pm
(Note the images at night have been doctored. It was in fact very dark)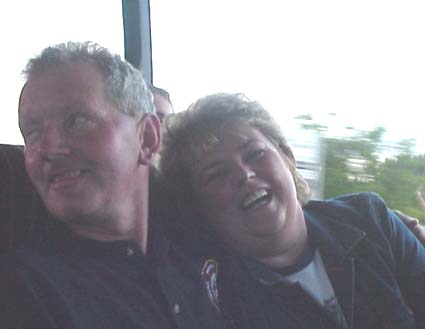 George (Band Master) and Lorna - parents to a few MYD boys!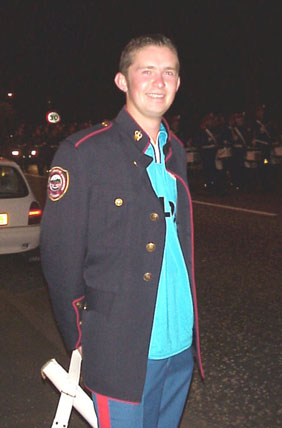 And here's one of their boys - Craig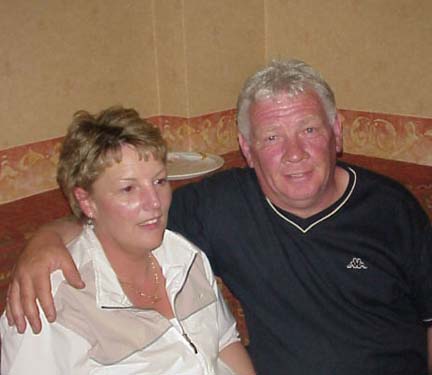 Maurice (on the right! Formerly MYD. His "wee" boy is now a drummer with the band) and his missus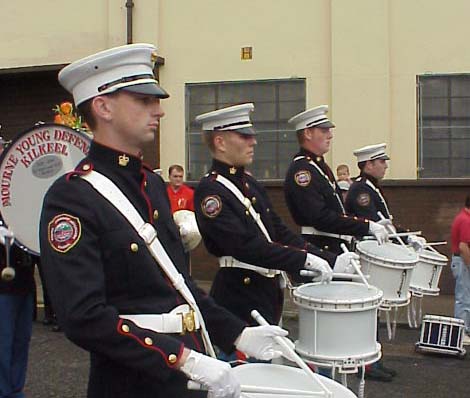 Second Row Drummers (Powerhouse of MYD Drum Corps!)
Roger, don't tell them about the duct tape holding your drum up!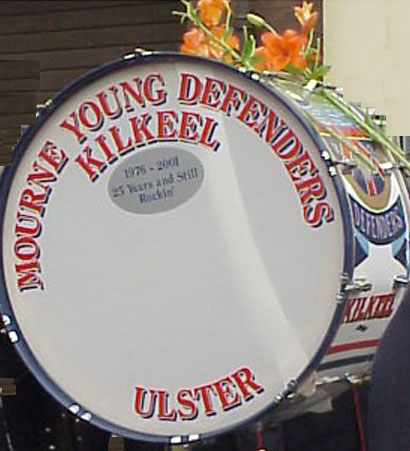 Say No More! (Oh, where is "Cutter" the bass drum player with attitude?)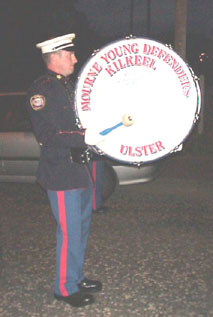 Och, here he is. Shiney boots an' all!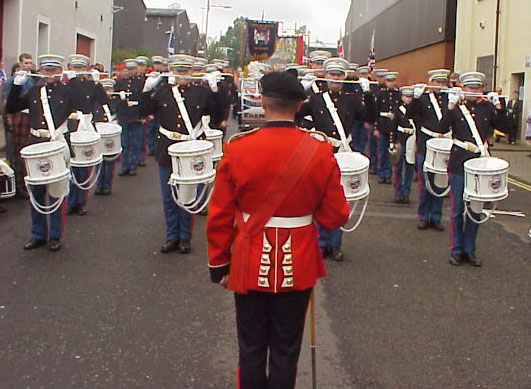 Drummers Ready!
Still the smartest band on the road
"Oh, where are the Cassidy boys in this Gallery?"
Och, next year when the old man's back and Kellswater let the loon go to Belfast!